I didn't think much about the question "did Bush dubya keep us safe" until recently - a month after Jeb Bush first raised the topic during his September 14 debate when he proclaimed in frustration:
"You know what? As it relates to my brother, there is one thing I know for sure, he kept us safe."
Then it dawned on me – a month after those mindlessly defensive words – no Jeb, your brother absolutely failed to keep us safe. We lost 3,000 souls during his watch and began a foreign policy chasing the wrong boogie men.
Not surprisingly, the left wing media jumped on Jeb Bushes' failed attempt to claim his brother "kept us safe." HERE is one example from Think Progress. Others who jumped on Jeb's doomed claim include Salon, Esquire, Huffington Post , Chris Matthews and several others.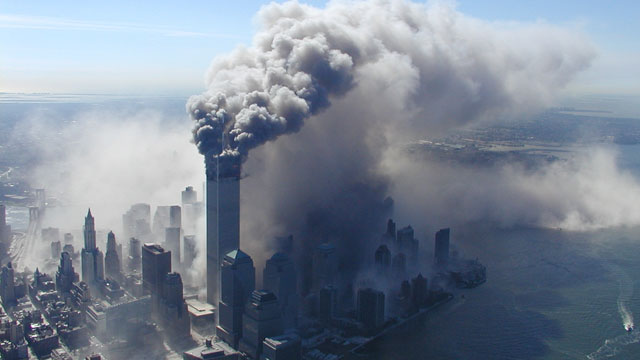 That Jeb miss-step gave Trump an opportunity to pile on, which he appropriately did in an interview with Bloomberg TV a few days ago when he stated:
"When you talk about George Bush, I mean, say what you want, the World Trade Center came down during his time…"
It's amusing that the liberal mainstream media are today mocking Trump for saying the same thing about Bush's failure as the liberal media said three weeks ago.
And yet , in a Breitbart review of Jeb Bush's 2013 book 'Immigration Wars' Jeb Bush himself joined Trump's argument and concluded that our "leaky" immigration policy was at least partially responsible for the attack.
Bush wrote:
"In addition to the Mexican drug cartels, the fact that several of the 9/11 terrorists entered the country lawfully under a leaky immigration system has heightened national security concerns—so much so that immigration enforcement has been placed under the Department of Homeland Security."
Now a month after his attempted defense of his brother during the debate, Jeb persists in the impossible – making his case sound hopelessly pathetic – and destroying his assertion that he has distanced himself form his brother. Here is the latest on this Trump-Bush feud from Politico. Trump is winning the feud because he is not trying to defend the indefensible as Jeb is doing. Will Jeb also attempt to defend the words of his brother – the words that distracted the United States from the real cause of the 9/11 attack - the belief system that motivated the attack - Islamic fundamentalism?
Here are his brother's words – our president's words 6 days after 9-11:
"The face of terror is not the true faith of Islam. That's not what Islam is all about. Islam is peace. These terrorists don't represent peace. They represent evil and war.

"When we think of Islam we think of a faith that brings comfort to a billion people around the world. Billions of people find comfort and solace and peace. And that's made brothers and sisters out of every race – out of every race."
Those words clearly and painfully explain why Jeb's brother did not keep us safe – why 3,000 were murdered during an Islamic-inspired attack on our nation under his watch. For Bush dubya to utter those deceptive and woefully ignorant words only meant that he relied on advisors who not only misrepresented Islam, but failed to provide timely and accurate intelligence concerning the carefully planned Islamic-inspired attack.
Is this what Jeb is defending? Jeb is defending his brother's blindness about Islam. He likely shares the same blindness and will likely share the same Islamo-ignorant and politically correct advisors.
Jeb has an even worse liability than the poor homeland security record of his older brother. Jeb was governor of Florida during the lead up to 9-11. During Jeb's watch, many of the 9-11 Muslim hijackers were issued Florida drivers licenses that gave these killers free access to things reserved for US citizens. Here's the clincher from Breitbart revealing Jeb's weakness on immigration and national security:
"Despite an attempt to address the news that some of the hijackers obtained the Florida I.D. cards, IBT pointed out, 'Bush in 2004 endorsed a Florida bill to allow undocumented immigrants to apply for the very same identification cards carried by many of the September 11 hijackers.'"
Shame on George; shame on Jeb.
…and if you ignore 1,400 years of Islamic deception and conquest based on orthodox Islamic doctrine.