"We're confident that selfless health workers who were brave enough to care for Ebola patients in a foreign country will be willing to take reasonable steps to protect residents of their own country"
Main Department of Health and Human Services Commissioner Mary Mayhew
Well, it looks like Kaci Hickox is not a selfless health worker.
What is my opinion of the likes of Kaci Hickox?
She is a caring but dangerously and insensitively naïve woman.  Caring – mostly about her own selfish interests.  Insensitive in that she is far from selfless.  Oh, she believes she is so cool and hip, making her big splash in Africa.  She not only walks the CDC line, but is in full agreement with our president in this:  Protecting other countries is more important than protecting our own.
Here she is, apparently enjoying herself in her chosen location, somewhere in the jungle.
She knows, or should know, that she was involved with a deadly disease.  She has , after all, voluntarily agreed to involve herself with those who are infected.
And still, she comes back home to the US with a fever and expects to immediately mix in with our general population.  Insane!  She doesn't give a crap about the other people around her over here.  She believes she is above us all.
Then she has the audacity to sue the State of New Jersey over her mandatory quarantine for a few days – a quarantine that makes infinite sense to a large majority of US citizens.
Her balls are bigger than the mega-sunspots.  She is one hell of a self-centered selfish chick.  Oh, she's giving of herself in Africa.  That is her choice and apparently she grooves on that choice.  That does not relieve her of her idiocy once she is back "home", a place she apparently respects less than Africa.
This is a picture of her temporary quarantine quarters.  It appears larger than my living room, dining room, and den combined.  It is likely significantly better than the conditions she chose to live in in her beloved Africa.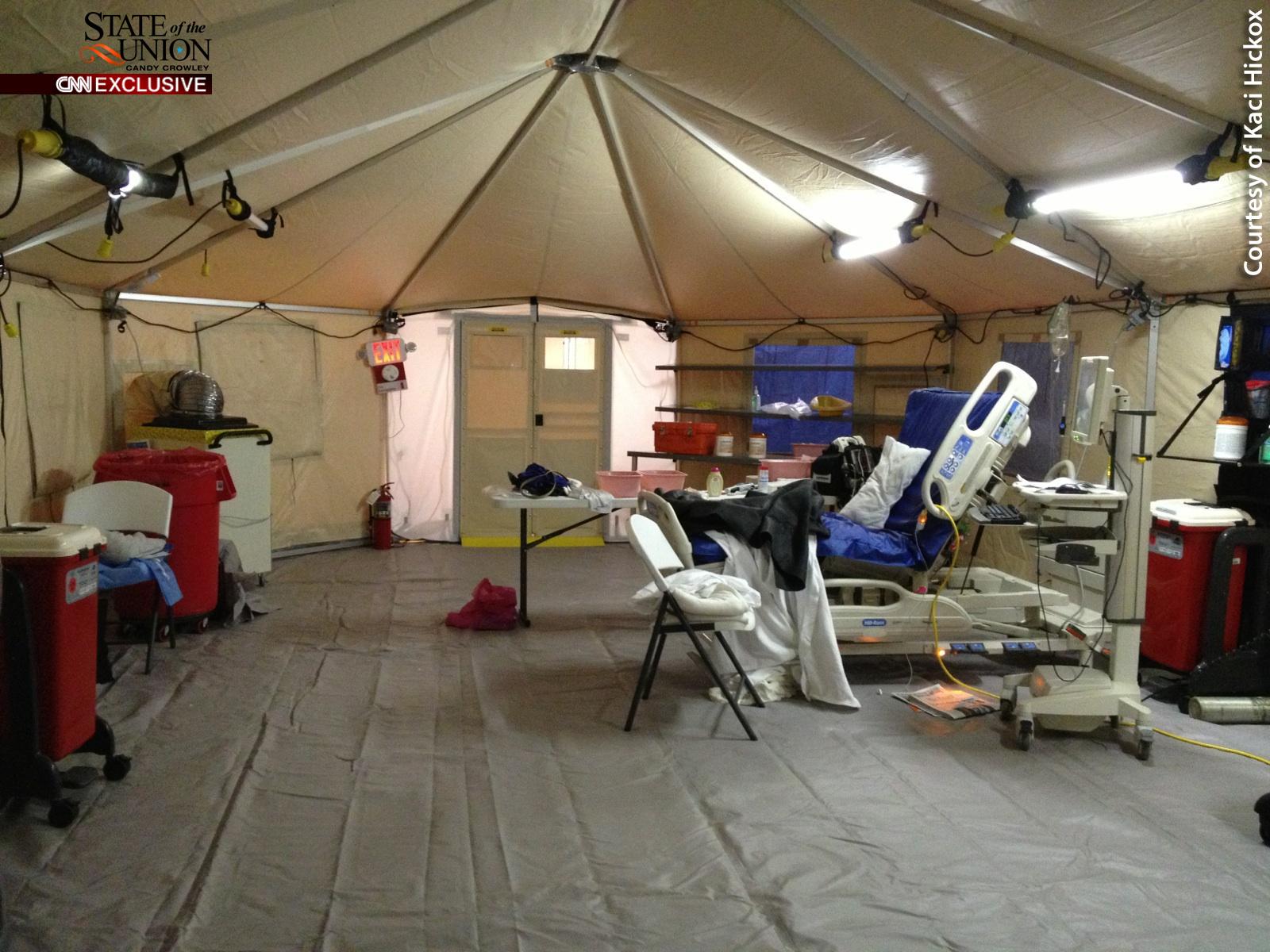 Her whining prevailed.  She is now back home.  She is fortunate that her fever subsided and she has tested negative for Ebola – so far.
But her arrogance doesn't stop there.  This uppity nurse refuses voluntary quarantine in Maine, too. And she is frightening her hometown folks there.  From CBS Connecticut:
The news of Hickox's return to Maine swept across the town of Fort Kent and the university campus, which has 1,400 students.

Faith Morneault, a 19-year-old behavioral science student, said news that Hickox may be headed to Fort Kent had caused "a lot of panic" among students. But she said she understands her desire to go home.

"You can't freak out in this situation. You have to understand it," she said.

Another student, 20-year-old behavioral science major Kayla Michaud, said students also are worried because of the potential presence of Hickox's boyfriend in the school community.

"If she's in quarantine, is he going to be quarantined, because we don't all want to be contaminated with the Ebola virus," she said.
Department of Health and Human Services Commissioner Mary Mayhew had these words of wisdom, the significance of which escape nurse Kratchet:
"We're confident that selfless health workers who were brave enough to care for Ebola patients in a foreign country will be willing to take reasonable steps to protect residents of their own country. However we are willing to pursue legal authority if necessary to ensure risk is minimized for Mainers."
The arrogance of Ms. Hickox is attributable to the ideological predisposition of this self-centered Ebola-don't-give-a-damner.  This from Gotnews.com: 
"The nurse…is an employee for the Centers for Disease Control and a registered Democrat with a history of left-wing advocacy, Gotnews.com has learned.

Kaci Hickox's ties to the CDC were not disclosed in a controversial anti-quarantine column she wrote for the Dallas Morning News. The CDC opposes quarantines or travel bans from Ebola infected countries.

Initially turned down for Doctors Without Borders, Hickox applied for a position with the Centers for Disease Control's infectious disease unit. She received that position and began a two-year fellowship in Las Vegas, NV where she currently still works."
More about this poor excuse for a caring human being HERE.  By the way, miss arrogant priss, Ebola virus can survive up to several weeks on various surfaces.
But that doesn't matter.  She has the always vigilant bureaucracy of the CDC behind her – as inept as the State Department that hopes to bring Ebola-infected foreigners into the US for treatment.  But that is a story for later.
HERE is another pointed article about sweet, caring Kaci titled "Liberalism Manifested" and subtitled "Me Me Me."